"Morality in Europe today," wrote Nietzsche in Beyond Good and Evil, "is herd animal morality."
On April 22, 2010, there took place an extraordinary creative event in Dusseldorf, Germany – at the KIT (Kunst im Tunnel) art space – called "Morality in Europe Today" (Zeitgenössische Moralvorstellung in Europe).
The event was curated and organized by Gertrud Peters, Giulietta Ockenfuss, and Magdalena Kita.
I have had extensive conversations with Giulietta and Magdalena, who are art and political-social activists. They are hybrid anarchist-liberals, exactly in the tradition of Albert Camus, Europe and Algeria's foremost political thinker of the last 75 years.
I think that Giulietta and Magdalena are doing very important work.
The university system in the USA and in Europe is morally bankrupt, and has been so for a very long time. This system is only about business. Students don't learn how to think any more, and their education is much too narrow and hyper-pragmatic. And their parents are shelling out mega-bucks in tuition money for this dubious "education." (or, in the case of America, the students are going into debt tens or hundreds of thousands of dollars)
Law Schools and Medical Schools: it's the same thing. Chase a piece of paper.
The entire system of higher education is nothing but A PAPER CHASE.
(See the great movie and TV show: THE PAPER CHASE).
Yet academic-scientific knowledge is just about the most important thing there is. For the present and the future of humanity and the planet. We need completely new formats for the presentation of knowledge. The event that Giulietta and Magdalena curated was a successful experiment in one of these new formats.
Some of the major participants were: Ewa Zarzycka, Alan N. Shapiro, Nagly  Atak Spawacza (a pioneering rap music group from Poland), Martyna Sztaba, Anne Katherina Imhof, Wolfgang Bauer, and Ralf Harth.
I spoke about "The Illusion Beyond Art."
All photos © Copyright Maurice Kaufmann (first 9 photos) or Ivo (last 8 photos).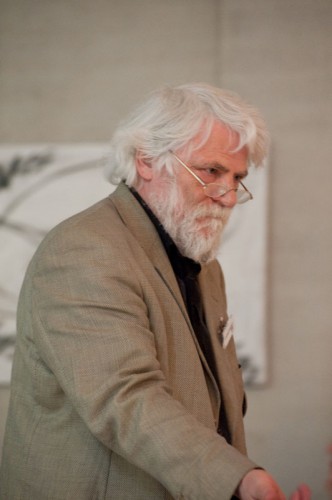 Wolfgang Bauer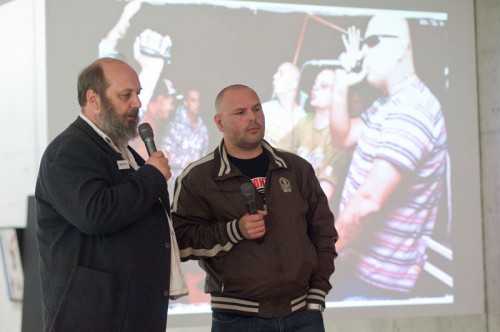 The "Morality in Europe Today" event at the Kunst im Tunnel art space was part of and sponsored by Wrong (06.03.2010 – 09.05.2010), kuratiert von Katharina Fritsch und Gertrud Peters.
Katharina Fritsch, eine der bedeutendsten Künstlerinnen Deutschlands und eine erfahrene Akademieprofessorin, wählte für die Ausstellung "Wrong" gemeinsam mit Gertrud Peters Künstlerinnen und Künstler aus, die ihr Werk erfolgreich neben dem Trend erschaffen; scheinbar zur falschen Zeit und am falschen Ort. "Wrong", also "falsch" – der Titel entstammt einem Song von Depeche Mode – sind Künstler, die frei von kunsthistorischen Wertvorstellungen und vom Zwang eine beeindruckende Vita vorweisen zu müssen, produktive "Fehler" machen, die sich als Befreiungsschläge und neue Formfindungen erweisen. Die ausgewählten Künstler lassen sich nicht auf fertige Systeme ein und verzichten auf die Kompromisse, die große Künstlerkarrieren zuweilen erfordern.
In der Ausstellung im KIT treffen junge Künstlerinnen und Künstler auf die Werke erfahrener Künstlerinnen und Künstler. Diese sind nicht zwingend als Verweise von Vorbildern auf Studenten zu sehen; sämtliche Werke zeigen die Zeitbeständigkeit eigenwilliger Kunst.