As they went inside Grand Central Station, Moe and Siggy saw more hurried commuters moving ahead with tunnel vision. Nobody wanted to look at the homeless. The bag ladies and street people would just put a damper on one's day. Past the panhandlers and cup rattlers, the squeegee people, the sharks, and the Monte dealers, the determined nine-to-fivers kept moving. Moe had his hands full keeping Siggy from giving all his dough away to beggars. The Mayor's Office advised against it, he said. Moe's other tsuris was keeping Siggy from gawking at all the junk food they passed on their way.
They laid out their fare and went down to the subway platform, where they sat tight for the number 6 train which would take them to Astor Place. From there, it would be a copasetic traipse through Washington Square Park and down to Spring Street.
The New York City subway is a world of improvisational theater. This hole in the ground is a fashion show, carnival, art gallery, library reading room, and energetic vision of democracy in action all at once. The electric sewer is the quickest, no sweat, and cheapest way to get around town. Many straphangers read as they travel beneath the city's bricks. Newspapers in Spanish, Arabic, Russian, Greek and Chinese report the news. Copies of The Wall Street Journal mingle with tabloids carrying headlines about UFOs.
This 24-hour, seven-day-a-week system carries 3.5 million riders per day. It costs $1.25 per ride no matter how far you go (except for rare double-fare zones). But the City loses millions of dollars each year to turnstile hoppers and users of contraband slugs. You can purchase tokens at a booth next to the subway entrance.
Siegfried and Moe arrived at Astor Place, an East Side local stop on the Lex. They barely made it out of the train before the doors closed quickly again.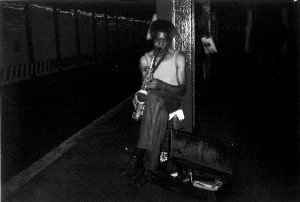 As they left the subway station, Siegfried and Moe saw musicians of all kinds. They seemed to use the subway as their jam studio. Some were there as part of the official "Music Under New York" program, which showcases organized gigs by blues, jazz, folk, and hip-hop artists. To his right, Siggy saw a group of Andean musicians playing flute and percussion arrangements. On the subway walls, next to the ads!ads for docs-in-the-box and enamel creams, were brief poems encapsulating the human condition. These, too, were part of an organized program. Perhaps they were devised to distract visual attention away from the omnipresent graffiti. As Siegfried and Moe walked up the stairs and out onto Eighth Street, they saw the mallies out in force. Must be a school holiday, Siggy thought. It was a top-ten day to knock one's eyes out. Crossing over from Fifth Avenue, they came into Washington Square Park, and Siggy looked up at the magnificent and famous Arch.
…